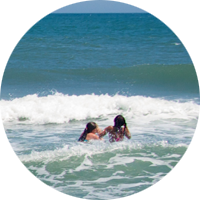 National Park Service
Swimming
The ocean is a wonderful place to swim—if you are careful. Swimming in the ocean is not the same as swimming in a pool or lake. Wind, waves, the change of the tide, the slope of the beach and other factors can cause strong currents to be present in the water even on the calmest days.
Ocean conditions can change from day to day and from hour to hour. Before going in the water, spend a few moments watching the waves. Wave patterns are a good indicator of the presence of currents and where deep water and other "surprises" are located. Know what to expect before you go in the water.
Be safe by following these tips for ocean swimming.
When available, swim at beaches patrolled by lifeguards.
Always swim with a buddy, and have adult supervision for all children.
Know the various types of ocean currents and how to get out of them.
Use US Coast Guard-approved flotation vests if a weak or non-swimmer.
Avoid wearing shiny objects that may attract sharks and other fish.
Stay alert by checking the daily NOAA Rip Current Hazard Forecast, watching the weather, staying sober, looking out for rip currents, watching for jellyfish.
Avoid swimming where danger is present: in rough seas, in inlets, around fishing piers and surfers, at night, or during thunderstorms.