Off-Road Vehicle Regulations

Please check here for information on how to get your Off-Road Vehicle (ORV) permit. More »
Pets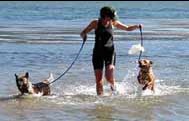 NPS
Your pets are welcome at Cape Hatteras National Seashore. Pet must be on a 6' leash at all times and are prohibited within any resource closure. Pets are not allowed on designated swim beaches or in buildings. Please, for your pet's sake, do not leave them unattended. And, for other visitors' sake, clean up after your pet.
If your pet is a horse … that's ok too! You may ride them anywhere vehicles are permitted to drive except in campgrounds. Horseback riding is prohibited in NPS campgrounds. Riders are required to use ORV ramps when crossing dunes.
Did You Know?

The U.S.S. Monitor sank off Cape Hatteras during a storm in December 1862. The wreck's location was a mystery until 1973 when a research vessel found the ship 16 miles off the cape in 230 feet of water. In 1975, the Monitor was named the nation's first National Marine Sanctuary.