Off-Road Vehicle Regulations

Please check here for information on how to get your Off-Road Vehicle (ORV) permit. More »
Pets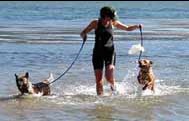 NPS
Your pets are welcome at Cape Hatteras National Seashore. Pet must be on a 6' leash at all times and are prohibited within any resource closure. Pets are not allowed on designated swim beaches or in buildings. Please, for your pet's sake, do not leave them unattended. And, for other visitors' sake, clean up after your pet.
If your pet is a horse … that's ok too! You may ride them anywhere vehicles are permitted to drive except in campgrounds. Horseback riding is prohibited in NPS campgrounds. Riders are required to use ORV ramps when crossing dunes.
Did You Know?

The U.S. Weather Bureau Station on Hatteras Island was built in 1901 and was one of 11 stations built around the country. It is one of only three remaining stations nationwide, and the only one in the nation restored to its 1901 condition. The station was reopened in 2007 to house a visitor center.