Fishing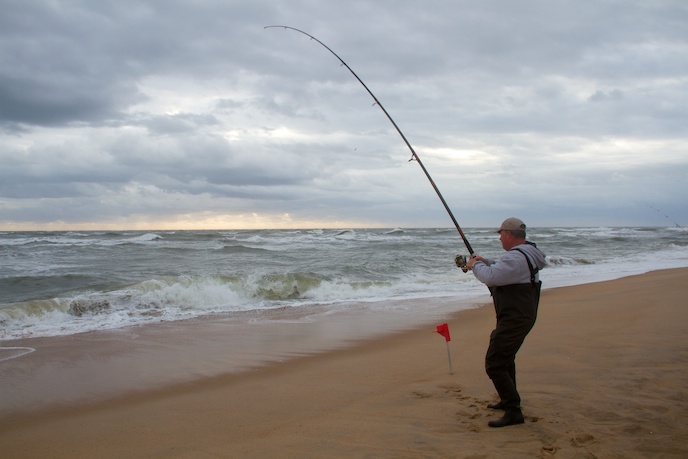 NPS
Cape Hatteras National Seashore offers the angler a variety of excellent fishing opportunities. Many different types of fish can be taken from the surf, piers, and freshwater ponds as well as from boats in the inlets, the sound, and offshore in the Gulf Stream. You can go out on your own or check offshore fishing opportunities offered by our park concessionaire,
Oregon Inlet Fishing Center
. The best fishing is in the spring and fall, but the earnest fisherman can easily find reward all year except January and February. Action during the middle of summer is best offshore.
Enjoy your day fishing, just remember any person aged 16 and older who wants to fish recreationally in any water designated as coastal and joint waters of North Carolina must purchase a
Coastal Recreational Fishing License
(
CRFL
). This license can be purchased on a 10-day, annual or lifetime basis, or combined with a variety of licenses issued by the Wildlife Resources Commission (WRC).
State of North Carolina fishing regulations
may apply.
The natural beauty of Cape Hatteras National Seashore is a pleasure for everyone to enjoy. Help us preserve it by:
removing all trash (including fishing line, bait, fish parts or dead fish),
not feeding any wildlife,
returning back to the water alive all fish you aren't keeping (including skates and sharks), and
not dumping wastewater or gray-water on the beach.
Numerous local tackle shops sell bait and fishing equipment, and are your best source for fishing information. If using your vehicle to access a beach area, check out our
off-road vehicle information
.
Did You Know?

The U.S.S. Monitor sank off Cape Hatteras during a storm in December 1862. The wreck's location was a mystery until 1973 when a research vessel found the ship 16 miles off the cape in 230 feet of water. In 1975, the Monitor was named the nation's first National Marine Sanctuary.