Fee Collection for Backcountry Permits

Navajo Nation Parks & Recreation Dept (NPRD) has a new office at the Cottonwood Campground. NPRD who manages the canyon tour operations will be collecting fees for the backcountry permits starting May 1, 2014. Call NPRD at 928-674-2106 for information.
Volunteer
Interested in volunteering at Canyon de Chelly? Volunteers can serve as Campground Hosts, Maintenance Helpers, Information Assistants and other positions. For more information regarding the volunteer program at Canyon de Chelly National Monument, please contact us.
To view more NPS volunteer opportunities, go to www.volunteer.gov/gov


Did You Know?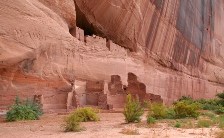 Canyon de Chelly National Monument is comprised entirely of Navajo tribal trust land with a resident community within the canyons. A backcountry permit and authorized guide are required to enter the canyon except for the White House Trail.