Bookstore
Western National Parks Association is a non-profit organization operating bookstores in several National Parks and Monuments throughout the area.
Proceeds from sales are returned to the parks to support intepretive programs, scientific research and educational publications.
A wide variety of products and WNPA memberships are available at each bookstore or online.


Did You Know?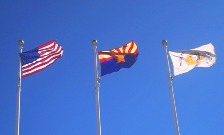 Located on the Navajo Nation, Canyon de Chelly National Monument observes Daylight Savings Time. From March through November, the time is ONE HOUR AHEAD of Arizona. The Navajo Nation changes its time because the Navajo Nation is partly in New Mexico and Utah.