Fee Collection for Backcountry Permits

Navajo Nation Parks & Recreation Dept (NPRD) has a new office at the Cottonwood Campground. NPRD who manages the canyon tour operations will be collecting fees for the backcountry permits starting May 1, 2014. Call NPRD at 928-674-2106 for information.
Things To Do
SCENIC DRIVES: From the Visitor Center, two paved rim drives lead to several overlooks that provide excellent views of the canyon below. Allow 2 hours on each side to visit 3 overlooks on the North Rim Drive and 7 overlooks on the South Rim Drive.
SELF GUIDED HIKE: About 6 miles from the Visitor Center, there is one public trail to hike at the White House Ruin Overlook. Allow 2 hours round trip to hike about 600 feet down the switchback trail to the White House Ruin. No pets are allowed on the trail.
RANGER LED PROGRAMS: Ranger led activities, including hikes, are generally offered from Memorial Day through Labor Day. Check at the Visitor Center for schedule of summer activities.
CANYON TOURS: Tours into the backcountry of the canyon requires a backcountry permit and hiring an authorized guide. Permits are free and available from the Visitor Center during regular business hours only. Tours by hiking, horseback or vehicle are provided by private guides and companies.
CAMPING: For information on camping in the park, click on Outdoor Activities.


Did You Know?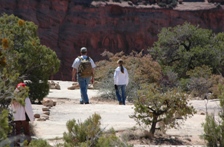 Canyon de Chelly National Monument requires pets to be on a leash when outdoors. Pets on a leash can be at the overlooks, in the campground or parking lots. For the safety and health of your pet, pets are not permitted on any trail or on a canyon tour.