Fee Collection for Backcountry Permits

Navajo Nation Parks & Recreation Dept (NPRD) has a new office at the Cottonwood Campground. NPRD who manages the canyon tour operations will be collecting fees for the backcountry permits starting May 1, 2014. Call NPRD at 928-674-2106 for information.
Outdoor Activities
CAMPING
The Navajo Parks and Recreation Department (NPRD) manages the Cottonwood Campground and collects fees for camping.
There are about 90 individual campsites available and 2 group tent sites. Each site includes a parking space, picnic table and grill. There are 3 restroom facilities that include sinks and flushable toilets, but no showers. No hookups are available, but a dumpstation is located in Loop 1. Limited services are available during winter months.
GROUP SITES: Reservations for group campsites are required. Sites are for tent camping only. No reservations are accepted for RVs.
RVs: Sites cannot accommodate vehicles more than 40 feet, including vehicles-in-tow. Full hookups are available in the surrounding areas of Gallup, NM; Monument Valley, UT; and Holbrook, AZ.
COLLECTING FIREWOOD IN THE PARK IS NOT PERMITTED. NO AT LARGE CAMPING IS PERMITTED ALONG ROADS, AT OVERLOOKS OR IN THE BACKCOUNTRY.
For camping rates and information, contact NPRD at (928)674-2106.


Did You Know?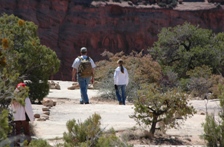 Canyon de Chelly National Monument requires pets to be on a leash when outdoors. Pets on a leash can be at the overlooks, in the campground or parking lots. For the safety and health of your pet, pets are not permitted on any trail or on a canyon tour.