Operating Hours & Seasons
The Visitor Center is open daily all year from 8 a.m. to 5 p.m., except for Thanksgiving, Christmas and New Year's Day.
The North and South Rim Drives and the White House Trail remain open all year. The drives are paved roads accessible by vehicle (4-wheel drive is not required).
During severe weather, the Visitor Center may open at a later time or be closed for the day.
From March through November, the Navajo Nation observes Mountain Daylight Savings Time when the time will be the same as Colorado, New Mexico and Utah. The rest of Arizona observes Mountain Standard Time all year.


Did You Know?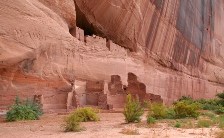 Canyon de Chelly National Monument is comprised entirely of Navajo tribal trust land with a resident community within the canyons. A backcountry permit and authorized guide are required to enter the canyon except for the White House Trail.