Fee Collection for Backcountry Permits

Navajo Nation Parks & Recreation Dept (NPRD) has a new office at the Cottonwood Campground. NPRD who manages the canyon tour operations will be collecting fees for the backcountry permits starting May 1, 2014. Call NPRD at 928-674-2106 for information.
Park Events
ANNUAL EVENTS
Park Rangers provide FREE activities throughout the year. Check for details at the Visitor Center. Sign up in person for hikes; 15 people maximum.
FEB - Great Backyard Bird Count; hikes offered
MAR - Archeology Month; hikes and talks offered
APR - Park's Birthday; refreshments available on April 1
APR - National Park Week; hikes and talks offered
MEMORIAL DAY TO LABOR DAY - Summer Activities begin; hikes, talk, evening programs
JUN - Treaty Day; special programs on June 1
AUG - Founder's Day; special programs on August 25
SEP - Public Land's Day; Clean up of Tsaile and Wheatfields Lake
OCT - Halloween Costume Contest; 1st to 4th place gift certificates for kids on October 31
NOV - Native American Heritage Month; special programs
!KNOW YOUR LIMIT!
Hikes are moderately strenuous to strenuous and can involve some climbing; hiking up/down uneven slick rock; and going through sand, mud and water.
Be prepared for unpredictable weather - heat, rain, snow, duststorm; bring water, snacks, insect repellent, personal first aid kit; and wear hiking boots, hat, and dress in layers.
Do NOT attempt if you have or had recent surgery, respiratory problems, knee or back injuries, difficulty climbing stairs or fear of heights!
Did You Know?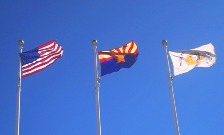 Located on the Navajo Nation, Canyon de Chelly National Monument observes Daylight Savings Time. From March through November, the time is ONE HOUR AHEAD of Arizona. The Navajo Nation changes its time because the Navajo Nation is partly in New Mexico and Utah.