Fee Collection for Backcountry Permits

Navajo Nation Parks & Recreation Dept (NPRD) has a new office at the Cottonwood Campground. NPRD who manages the canyon tour operations will be collecting fees for the backcountry permits starting May 1, 2014. Call NPRD at 928-674-2106 for information.
Management
Tamarisk/Russian Olive EA (pdf) (1,207 KB)
MANAGEMENT OF THE PARK
Canyon de Chelly National Monument is unique from most other national park units in that the park is located on Navajo tribal trust lands with a community of Navajo families living in the canyons. As such, administration of the park requires the National Park Service and the Navajo Nation to work together to protect and preserve the park resources.
Click here to read the Administrative History of the Park. For questions regarding management, please call the Park Superintendent or Deputy Superintendent at 928-674-5500.


Did You Know?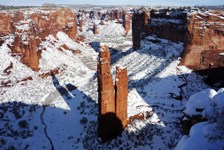 The name of Canyon de Chelly was derived from the misspelling and mispronunciation of the Navajo word for the canyon. The Navajos call the canyon "Tseyi" which is pronounced 'say-ee.' Eventually the word became "de Chelly" which is pronounced as 'de-shay'