Fee Collection for Backcountry Permits

Navajo Nation Parks & Recreation Dept (NPRD) has a new office at the Cottonwood Campground. NPRD who manages the canyon tour operations will be collecting fees for the backcountry permits starting May 1, 2014. Call NPRD at 928-674-2106 for information.
Tours of the Canyon
Private companies provide tours into the canyon by vehicle, horseback or hiking. These companies are registered with the Navajo Parks and Recreation Department and are authorized to provide canyon tours in the park. Please contact the companies directly for prices, reservations and availability. Reservations are recommended from March to October.
Access into the canyon may be restricted due to hazardous conditions or for the protection of park resources. Entering the canyon is at your own risk.
Click here for the Listing of Canyon Tours.
Did You Know?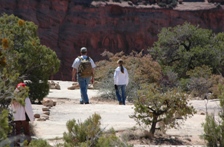 Canyon de Chelly National Monument requires pets to be on a leash when outdoors. Pets on a leash can be at the overlooks, in the campground or parking lots. For the safety and health of your pet, pets are not permitted on any trail or on a canyon tour.