Lighthouse Will Be Closed for Seismic Retrofit April 7 through May 16

The Lighthouse is undergoing a Seismic retrofit and will be closed from April 7 - May 16. Visitors can still access the Assistant Keepers Quarters exhibit from the south door, Lighthouse Comfort Station, and Kelp Forest Overlook. Call 619-557-5450.
Visitor Center Scheduled to be Closed May 19 through June 16

The Visitor Center will be undergoing a Seismic Retrofit and will be closed. Visitors will still be able to access the Auditorium, Ballast View and the East Patio. These dates are subject to change. Please call 619 557-5450 for updated information
Things To Do
A visit to Cabrillo National Monument offers tremendous views of the San Diego region and excellent opportunities to explore the natural and cultural history of the area.
The Visitor Center is a good place to start your exploration of the park. The "Age of Exploration" exhibit, films, and ranger-guided programs present interesting insights into the history of Cabrillo. A short walk leads to the Old Point Loma Lighthouse. This picturesque structure is restored to its 1880s appearance and presents life as it was for the lightkeepers and their families. In the adjacent Assistant Keeper's Quarters, interactive exhibits tell the story of the Lighthouses of Point Loma and, in a nearby historic military building, the exhibit "They Stood the Watch" presents the history of Fort Rosecrans.
A self-guided two-mile walk through a coastal sage scrub forest begins near the Lighthouse. This trail offers views of the harbor and city of San Diego and is particularly pleasant during the spring when wildflowers bloom.
A little south of the Lighthouse is the Whale Overlook. This vantage point offers pleasant views of the Pacific Ocean and the New Point Loma Lighthouse. Whales are often seen from here in January and February.
On the west side of the park, accessible by car only, is a beautiful coastal area. Birding is popular year round, and during extreme low tides visitors enjoy exploring the intertidal zone.


Did You Know?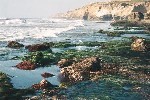 Did you know that the tidepools at Cabrillo National Monument are one of the last and best-preserved rocky Intertidal areas open to the public in Southern California?