Cabrillo National Monument Theater Closed on Selected Dates

Due to National Park Service alternate uses, the Cabrillo National Monument theater will be closed to the public on the following dates: October 28 all day, October 29 9am-12pm, November 6, 2014 12pm-5pm. We are sorry for the inconvenience.
Military Reenlistments
REENLISTMENT CEREMONY GUIDELINES
To help you determine if Cabrillo National Monument is the best choice for your Department of Defense reenlistment ceremony, we offer the following guidelines:
A Special Use Permit is required for all events of any length of time.
Please download and complete the application found below. Include your email address and allow at least one week for processing. Please email application to one of the Rangers listed below.
Ceremonies will be held in the Bluff Event Area.
Ceremonies may be held in other designated park areas, but must take place before 9:00 AM and will require a fee.
Receptions with cake, cookies, coffee, or other refreshments are not permitted.
The park entrance station opens at 9:00 AM. If you would like the ceremony to begin before 9:00 AM, please contact a ranger (listed below).
All vehicles must be parked in the main parking area.
Entrance fee does not apply with approved permit.
A $65 late fee applies to all permits not received within a week of event date.
Failure to get a permit may result in event being cancelled, moved or denied access.
Please obey all park regulations and laws.
DOWNLOAD AN APPLICATION
For a downloadable application for a reenlistment ceremony, click here. Please email completed application to permit coordinator listed below.
FOR MORE INFORMATION
To learn more about holding a reenlistment ceremony at Cabrillo National Monument, please call (619)557-5450 extension 4577 or extension 4566.
You may also email us.


Did You Know?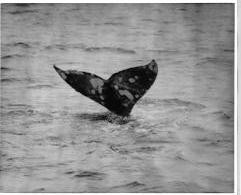 Did you know that Pacific Gray Whales can dive to more than 200 feet and can stay underwater for as long as 20 minutes?