Military History Building Closed Through March 19

The Military History Building is undergoing a Seismic Retrofit (Earthquake Safety) and will be closed while this work continues. We apologize for this inconvenience.
Lighthouse Will Be Closed for Seismic Retrofit March 24 through May 16

The Lighthouse is undergoing a Seismic retrofit (earthquake safety). The lighthouse is scheduled to be closed from March 24 through May 16. Please call (619) 557-5450 for updated information.
Visitor Center Scheduled to be Closed May 19 through June 16

The Visitor Center will be undergoing a Seismic Retrofit and will be closed. Visitors will still be able to access the Auditorium, Ballast View and the East Patio. These dates are subject to change. Please call 619 557-5450 for updated information
Management
Managing a National Park is a team effort - many staff members play key roles in preserving and protecting the park's visitors and cultural and natural resources, and park partners are instrumental in helping to provide that care. At any given time, a multitude of issues face park management: planning, budget, laws and policies. Park management today is a far cry from the early days of the National Park Service, when a Superintendent could also be seen atop a saddle, pulling backcountry patrol duty. Click on one of the areas above to learn more about the management today of Cabrillo National Monument.


Did You Know?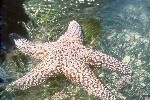 Did you know that delicate-looking tidepool creatures at Cabrillo National Monument are actually very hardy, and have adapted well to harsh conditions of pounding surf, intermittent exposure to sun and drying wind, and sharp changes in temperature and salinity?