For Kids
Be a Junior Ranger!
Hey kids! Want to learn more about Cabrillo National Monument, and earn a cool badge? Click here to go to our Junior Ranger page!
What Did Cabrillo eat?
One of the essential foods that Cabrillo brought along for the voyage was the notorious biscuit called hardtack. Click here to download a recipe that you can make at home!


Did You Know?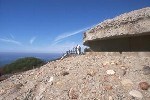 Did you know that in World War II, the Japanese Navy was ordered to avoid San Diego because of the coastal defense systems in place, some of which can still be seen today within Cabrillo National Monument?