New Bunker Hill Climbing Pass

From April 8 to June 30, for safe occupancy requirements, all visitors who climb the Bunker Hill Monument must first obtain a free climbing pass from the Bunker Hill Museum at 43 Monument Square. For groups of 10 or more, please call 617-242-5689.
USS Constitution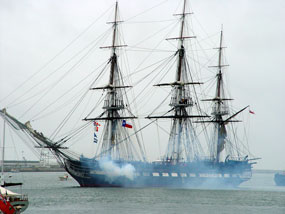 Following the Revolution, the nation's citizens proved their willingness to defend their newfound freedom and economic independence through the development and support of a navy. From 1800 to 1974, Charlestown Navy Yard built, repaired, and outfitted U.S. naval vessels. Today the yard is home to USS
Constitution
, the oldest commissioned warship afloat in the world, and the USS Constitution Museum. USS
Cassin Young
, refitted and modernized in the yard's drydock, represents the type of ship built in the yard during World War II.
USS
Constitution
is operated by the U.S. Navy in cooperation with the National Park Service. Learn more about Constitution by visiting the
USS Constitution
.
The
USS Constitution Museum
is located in the Charlestown Navy Yard near the ship.
The Naval Historical Center Detachment Boston, housed in Building 24 in the Charlestown Navy Yard is responsible for the maintenance, repair and restoration of USS Constitution.
Admission:
Free


Did You Know?

Four of the five Massachusetts signers of The Declaration Of Independence are represented in the artwork in Faneuil Hall.  The missing member of the delegation is Elbridge Gerry.