Paul Revere House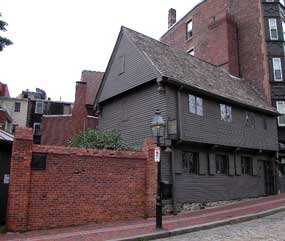 Boston's oldest residential neighborhood, the North End, contains some of the city's oldest buildings. The Paul Revere House is the oldest in downtown Boston. Built in 1680, it was owned and occupied by Paul Revere and his family most of the time from 1770 to 1800. Today it is operated, along with the neighboring Pierce-Hitchborn House, as a house museum by the Paul Revere Memorial Association, which restored the dwelling in 1908 after it had been used for a number of different purposes, including a cigar factory and bank.
The Paul Revere Memorial Association, a private, non-profit organization, operates both the Paul Revere and Pierce/Hitchborn Houses.
Hours: For more information visit the
Paul Revere House
.
Admission: Small fee for each house; combination tickets available. Call (617) 523-2338 for more information


Did You Know?

When the Boston Massacre monument was erected on Boston Common in the 1880s, the president of The Massachusetts Historical Society protested, "The crown of the martyr should not be placed on the brow of the ruffian." Come to think of it, John Adams didn't speak too highly of the victims either.