Bunker Hill Museum Closed

The Battle of Bunker Hill Museum is closed until further notice to repair the heating system.
Bunker Hill Monument Closed

The Bunker Hill Monument is unavailable to climb due to ice on the steps. Please visit the Bunker Hill Lodge adjacent to the monument.
Old State House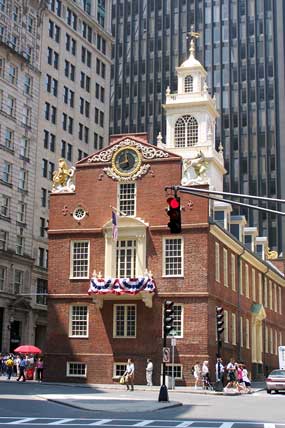 Built in 1713, this historic landmark served as a merchants' exchange as well as the seat of colonial and state governments. In 1761 James Otis opposed the Writs of Assistance here, inspiring John Adams to state "then and there the child independence was born." A cobblestone circle beneath its balcony marks the site of the 1770 Boston Massacre when British soldiers fired into a crowd of Bostonians. Fugitive slave Crispus Attucks was among the five victims who died that day. Today the Bostonian Society maintains the building as a museum of Boston history.
Hours & Admission: Visit the
Bostonian Society
web site for information on hours and fees. Small admission fee. Massachusetts schoolchildren free. Group rates available. Call (617) 720-1713, ext. 27 for more information.


Did You Know?

Owning a shop to sell sewing supplies was one of the few occupations available to women in 18th century Boston. Many women were widowed by the French & Indian War and supported their families by working in the sewing trades. By 1770 over 70 shop-owning women in Boston were called "She-Merchants."