Faneuil Hall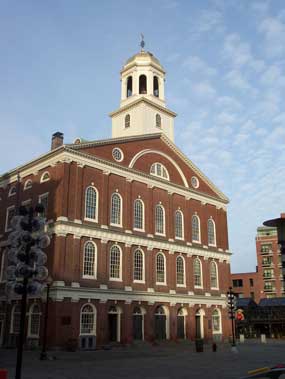 This old market building, first built in 1742, sits at the site of the old town dock. Town meetings, held here between 1764 and 1774, heard Samuel Adams and others lead cries of protest against the imposition of taxes on the colonies. The building was enlarged in 1806. Frederick Douglass, William Lloyd Garrison, and Lucy Stone brought their struggles for freedom here in the 19th century. Market stalls on the first floor service shoppers much as they did in Paul Revere's day.
Hours: Open 9 am - 5 pm, except during city sponsored events.
Admission: Free
Faneuil Hall Site Bulletin pdf (size-191k)
Art in Faneuil Hall pdf (size-400k)
Faneuil Hall, What's Original? pdf (size - 743k)


Did You Know?

Owning a shop to sell sewing supplies was one of the few occupations available to women in 18th century Boston. Many women were widowed by the French & Indian War and supported their families by working in the sewing trades. By 1770 over 70 shop-owning women in Boston were called "She-Merchants."