Extreme Fire Danger

Due to extremely dry conditions, fire restrictions are in effect in all national park units in Southeast Utah. More »
Hiking
Arches contains a variety of hiking trails. Ranging in length and difficulty, these trails provide access to outstanding viewpoints and many of the park's famous features, including Balanced Rock and Delicate Arch. In many cases, trails travel under arches, affording quite a different perspective than what is visible from a car.
Easy Trails
Moderate Trails
Long Trails
The Fiery Furnace
The Fiery Furnace is an area of the park that has no established hiking trails, signs, or maps. Exploring this area requires careful navigation, physical agility and a hiking permit (fee charged).
Watch Your Step!
Help us protect biological soil crusts during your visit. Please walk on trails, rock or in sandy washes (where water flows when it rains), and keep all vehicles and bikes on designated roads.


Did You Know?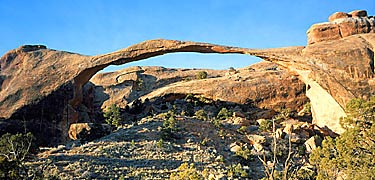 Landscape Arch is the longest arch in Arches National Park, measuring 306 feet from base to base. In 1991, a massive slab of rock fell from its underside, resulting in an even thinner ribbon of rock.