Extreme Fire Danger

Due to extremely dry conditions, fire restrictions are in effect in all national park units in Southeast Utah. More »
Trial Period for Online Fiery Furnace Reservations
Date:
September 11, 2009
Contact:
Paul Henderson, 435-719-2102
From now until the end of October, Arches will be accepting online reservations for the popular Fiery Furnace tour. After this trial period, the system will be evaluated and may be continued next year.

To make a reservation, visit www.recreation.gov. To learn more about the Fiery Furnace tours, click here.

Did You Know?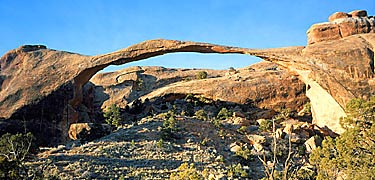 Landscape Arch is the longest arch in Arches National Park, measuring 306 feet from base to base. In 1991, a massive slab of rock fell from its underside, resulting in an even thinner ribbon of rock.