Call for Artists
Date:
April 23, 2010
Contact:
Nancy Holman
, 435-719-2240
Contact:
Chad Niehaus
, 435-259-9314
The National Park Service is currently accepting applications for the 2010 Community Artist in the Parks program. Established in 2009, the Community Artist in the Parks program highlights the connection between a local artist and the surrounding landscape, particularly Arches and Canyonlands National Parks and Hovenweep and Natural Bridges National Monuments. The artist creates work within the parks and shares his/her inspiration and creative process with visitors from around the world.

The 2010 term will begin June 1st and end November 15th. Completed applications must be received by May 15th, 2010.

Download Application Packet [17k PDF file]
Did You Know?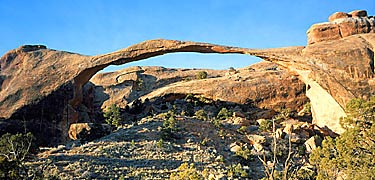 Landscape Arch is the longest arch in Arches National Park, measuring 306 feet from base to base. In 1991, a massive slab of rock fell from its underside, resulting in an even thinner ribbon of rock.