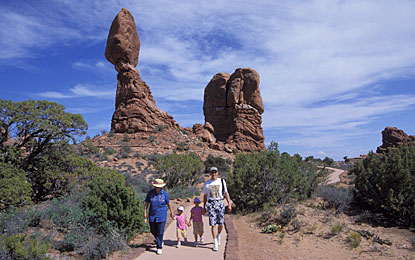 NPS Photo by Neal Herbert
Arches is a great family park. The rock formations delight kids as well as adults, and many short hiking trails provide opportunities for everyone to get out of the car and explore the park's features.
Kids may also enjoy the interpretive talks and walks offered spring through fall. Stop at the visitor center to check current schedules, and take some time to view the exhibits and the park's orientation video.
The Junior Ranger Program is a great way for kids to learn about the park while having fun. Free booklets and Red Rock Explorer backpacks are available at the visitor center.