The McLean House front porch is closed, but the house remains open.

The front porch of the McLean House is being renovated requiring entry into the house through the back door.
Army of the Potomac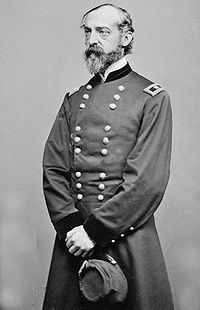 Photo by Matthew Brady
Major General George G. Meade
Provost Guard: Brigadier General George N. Macy
1st Indiana Cavalry
1st Massachusetts Cavalry, Companies C and D
3rd Pennsylvania Cavalry
11th United States Infantry, 1st Battalion
14th United States Infantry, 2nd Battalion
Headquarters Guard
3rd United States Infantry
Quartermaster's Guard
Independent Company, Oneida (New York) Cavalry
Engineer Brigade:Brigadier General Henry W. Benham
15th New York Engineers (9 companies)
50th New York Engineers
Independent Brigade:Brigadier General Charles H. T. Collis
1st Massachusetts Cavalry (8 companies)
61st Massachusetts Infantry
80th New York Infantry (20th Militia)
68th Pennsylvania Infantry
114th Pennsylvania Infantry

Battalion of United States Engineers: Major Franklin Harwood
Artillery:Brigadier General Henry J. Hunt
Siege Train:Brigadier General Henry W. Abbot
1st Connecticut Heavy Artillery
ConnecticutLight Artillery, 3rd Battery
Artillery Reserve:Brigadier General William Hays (in command from April 6)
Maine Light Artillery, Companies B, C, D and F
New York Light Artillery, 12th Battery
1st Ohio Light Artillery, Company H
1st Pennsylvania Light Artillery, Company F
1st Rhode Island Light Artillery, Company E
Vermont
Light Artillery, 3rd Battery
Did You Know?
Colonel Charles Marshall, Lee's aide-de-camp, was the great-nephew of Chief Justice John Marshall. Charles Marshall chose the site of the surrender meeting and was the only Confederate present in the McLean House besides General Lee.