New Visitor Center Hours

As of Sunday, March 9, 2014 the Visitor Center will be open seven days of the week from 8 am to 4:30 pm.
Plan Your Visit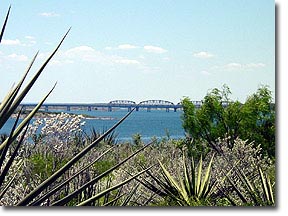 There is a richness and beauty that exists at Amistad National Recreation Area. World-class fishing and boating draw visitors from across the continent to its clear waters, while ancient rock art sites attract visitors from around the world.
Fishing
Pro anglers have recently discovered that Amistad Reservoir is a hidden gem with top-quality year round fishing, especially for largemouth, smallmouth, and striped bass. Some fishermen also try for channel and blue catfish, crappie, sunfish, and alligator gar. To maintain the high-quality fishery, "catch and release" practices are encouraged.
A valid Texas fishing license is required when fishing on the United States side of Amistad Reservoir. A Mexican fishing license is required when fishing on the Mexico side. See Fishing for more information.
Boating
With approximately 60,000 surface acres of water and good weather most of the year, Amistad is a boater's paradise. Houseboats, ski boats, sail boats, and personal watercraft are commonly seen on the lake. If needed, houseboats and other craft can be rented from Forever Resorts.
A Lake Use Permit is required. See Boating for information about Amistad Lake Use Permits.
Mexican Permits

For current Mexico boat permit and fishing license information, go to www.conapescasandiego.org or call 619.233.4324.
Information on Mexican permits can also be obtained at:
Amistad Marine (Ranger boat dealer on Hwy 90 West across from Spur 454), 830.775.0878, or

Camping
The recreation area offers five campgrounds. All are primitive without RV hookups. Campsites are on a first-come-first-served basis and cannot be reserved. RV parks and campgrounds with full facilities are located nearby.
Camping is permitted by boat on undeveloped shorelines.
Group campsites are available and may be reserved up to 180 days in advance.
See our Camping and Fees section for more information.
Native American Pictographs
The Amistad NRA area is home to dramatic 4,000 year-old rock art. These mysterious paintings adorn rock shelter walls in numerous sites throughout the Amistad region. Panther and Parida Caves are accessible by boat (depending on lake level), and hikers can go on a guided tour at nearby Seminole Canyon State Park and Historic Site.
See How to See Rock Art for more information.
See Things to Do for other activities, including swimming, picnicking, hiking, and bird watching.


Judge Roy Bean Visitor Center, Langtry TX

Learn the truth about 'The Law West of the Pecos.'

Del Rio Chamber of Commerce

Let the Chamber help you plan your visit.
Did You Know?

During both World War I and World War II, the Pecos River Viaduct was guarded by the U.S. Army against enemy saboteurs as it was a vital link to the war efforts.