Things To Do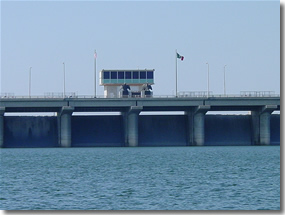 NPS Photo
Even if you don't own a boat, Amistad offers a variety of activities for everyone.
Visit Amistad Dam
Visitors can drive to Amistad Dam for a great view of Lake Amistad. Because the Amistad Dam is an official Port-of-Entry visitors wishing to see the dam are required to have a valid pass port with them. The dam is open most days from 10 a.m. until 6 p.m. Please note that half the dam is in Mexico.
The International Boundary and Water Commission operates Amistad Dam.
Tours are not offered.

Picnic, Swim, or Walk by the Water
Eight picnic areas can be found in the park. Governors Landing has a day-use area for picnicking, swimming, and enjoying a walk by the water. Visitors can swim anywhere in the lake except in coves with boat ramps or marinas.
Rent a Boat
Contact Southwest Lake Resorts at (830) 775-8779 for more information on boat rentals. Southwest Lake Resorts is currently the only privately owned boat rental outfit licensed under a Commercial Use Authorization permit to operate within the boundaries of Amistad National Recreation Area.
Take a Scenic Drive
At Diablo East, the unpaved Viewpoint Road offers sweeping views of the lake and has good spots for picnicking, swimming, and scuba diving.
Tent or RV (dry) Camp
Amistad maintains five primitive campgrounds located throughout the park.
U.S. Military
Active and retired military have exclusive access to Southwinds (U.S. Air Force) Marina located off the road to Amistad Dam.


Did You Know?

There are many caves or "rock shelters" like this near Amistad National Recreation Area. Many of these rock shelters show signs of having human occupation up to 10,000 years ago.