Maps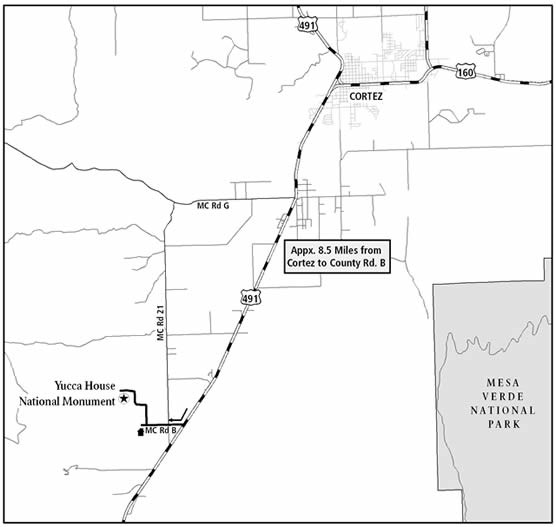 Directions to Yucca House National Monument
From the entrance of Mesa Verde National Park, take Hwy. 160 West through Cortez, to Hwy. 491 South.
Continue driving south approximately 8 miles from the intersection of Hwy. 160 and Hwy. 491.
Take a right on MC County Road B (green sign), which is a dirt road one mile south of MC Road C.
Drive 0.8 miles, crossing a paved road (MC Road 21).
Take the next dirt road on the right before the farmhouse on the left. (As you make this turn, you will cross a yellow cattle guard and pass a Box Bar Ranch, No Trespassing sign. The "no trespassing" sign does not apply to the county road.)
Follow this road north and west for 1.4 miles, and head towards the white ranch house with the red roof on the west horizon.
Once at the ranch house, Yucca House National Monument is on the left side of the driveway.
Please be courteous toward the private landowners and close all gates behind you as you enter to prevent livestock from escaping.


Last updated: April 5, 2016