Weather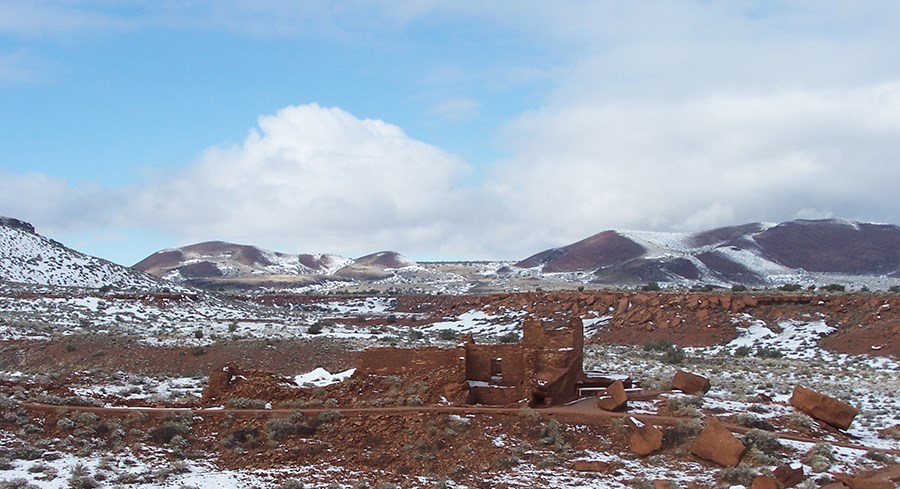 Wupatki is high desert; at elevations of 4,280' to 5,720', weather conditions can be unpredictable. In general, here's what you can expect:

Summer: Dry and windy. Brief daily thunderstorms from July-September provide most of Wupatki's annual 8" of precipitation. Daytime temperatures are in the 90s and occasionally over 100° F. Lows are normally in the 50s.

Fall: Very pleasant, with mild to warm daytime temperatures, some precipitation, and light winds.

Winter: Mostly mild daytime temperatures, and nights often below freezing. A few small snow showers.

Spring: Unpredictable, and often windy. Mild to warm days, but occasional rain or small snow showers.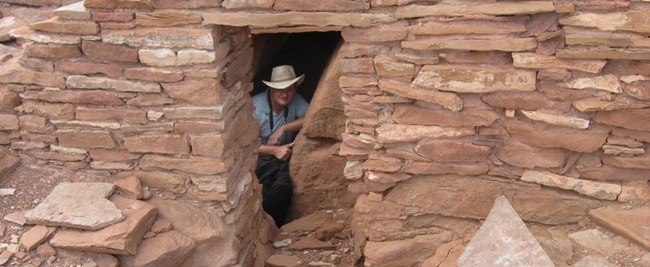 Vulnerability to Climate Change at Wupatki
Sean Patrick Berry is working on developing a vulnerability assessment for archaeological resources at Wupatki National Monument. His project focuses on the potential effects of climate change on archaeological sites and establishes baseline conditions from which changes and im­pacts can be monitored. To ascertain the exposure of archaeological remains to climate change, Sean and NPS employees used projections from 16 General Circulation Models, downscaled to a 0.5 degree resolution and reviewed climate change studies for Wupatki, the Colorado Plateau, and the southwestern region of the United States. Sean is also performing field documentation of the current conditions from a sample of the 2696 known archaeological sites of Wupatki. The overall goal of the project is to assist in developing management recommendations for completing an Environmental Improvement Plan.
Since starting his 12 week internship at Wupatki, Sean gained valuable first-hand experience on assessing the condition of archaeological sites, making treatment recommendations based on the current condition, and using a Trimble GeoXT GPS unit. This skill set will provide Sean with valuable experience in pursuing a career in cultural resource management both in the federal and private sectors. He currently attends graduate school at Northern Arizona University and hopes to apply his experience as an intern to a future job within the National Park Service.
This article is excerpted from https://www.nature.nps.gov/climatechange/assets/newsletters/2012/Sept_Oct_2012_CCRNews.pdf


Last updated: March 7, 2018