McCarthy Road & Kennecott Trails
McCarthy Road and Kennecott:
All of these trails and routes are located inside the park. Please contact the Kennecott Visitor Center (open during the summer) for more information.
Crystalline Hills Trailhead is located along the the north side of the McCarthy Road, at Mile 34.8.
Distance: 2.5 mile loop
Time: 2-3 hours
Maps: McCarthy 1:63,360 (B-7)
Difficulty: Easy to Moderate
Highlights: Road access, beautiful views.
Route: After hiking 1/2 mile, a short side trail leads to a nice view. The main trail continues to climb gradually through the dense forest, loops back along the base of the steep Crystalline Hills and returns to the trailhead. Note: The trail passes through shady forest and bug spray is highly recommended in summer.

Kennecott Hiking & Food Storage Map (pdf format 638 KB)
This is a map and synopsis of day hikes from the Kennecott Mill Town & locations of Bear Proof Food Storage Lockers.

McCarthy Creek (pdf format 362 KB)
Take a day hike and explore a riverside trail. Accessible from McCarthy.

The Wagon Road & Toe of the Kennicott Glacier (pdf format 1.7 MB)
Easy day hike to the "Toe of the Glacier" and/or to Kennecott Mill Town. Starts near McCarthy.

Root Glacier/Erie Mine Trail (pdf format 785 KB)
Easy/Moderate day hike along the Root Glacier with a spur trail to access the glacier. This is not a trail to the Erie Mine. Starts from Kennecott.

Jumbo Mine Trail (pdf format 700 KB)
Strenuous day hike to panoramic views and remnants of the Jumbo Mine bunkhouse. Trail starts from Kennecott.

Bonanza Mine Trail (pdf format 851 KB)
Strenuous day hike to tremendous views and remnants of the Bonanza Mine bunkhouse. Trail starts from Kennecott.


Bear Resistant Food Containers
(BRFC) are required for all backcountry camping in Wrangell-St. Elias National Park & Preserve. There are a few Bear Resistant Food Storage Boxes located north of Kennecott for campers. However, you are still required to use a BRFC.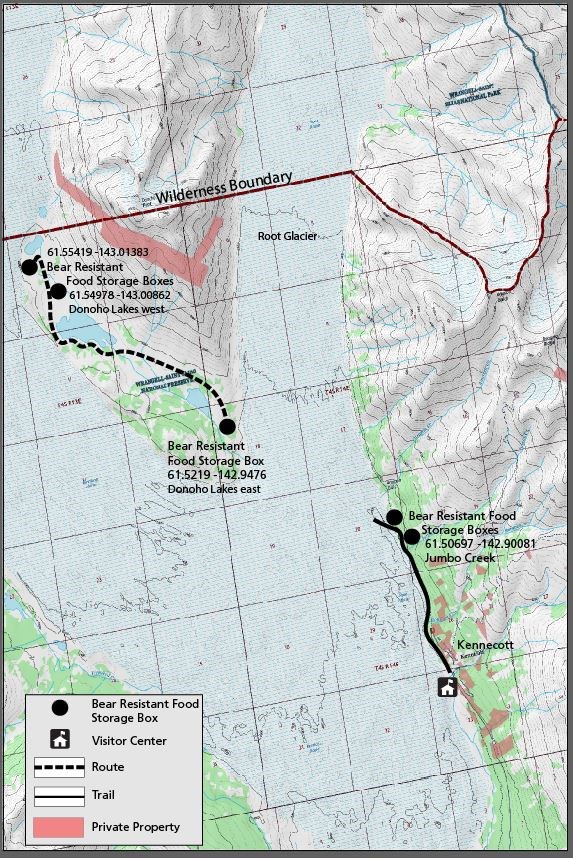 Bear Resistant Food Storage Box Locations (Latitude, Longitude):
Jumbo Creek area has two boxes (61.50697 -142.90081)
Donoho Basin east, lower lakes (61.5219 -142.9476)
Donoho Basin west, vegetated hillock (61.54978 -143.00862)
Donoho Basin west, hill between 2 little lakes (61.55419 -143.01383)
Erie Mine Trail box was REMOVED
Last updated: May 4, 2022