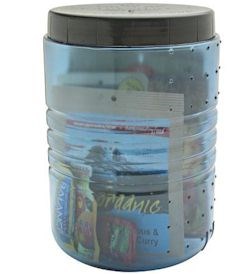 Proper food storage is REQUIRED within Wrangell-St. Elias National Park & Preserve. Using a bear resistant food container (BRFC) is an easy way to comply. You can borrow BRFCs at any park visitor center for backcountry use. BRFCs are not available at the McCarthy Road Information Station. We have a limited supply for public use. A refundable deposit is required.
Each container will fit in a standard backpacking pack and holds enough food for one person for about 5 days (more if you pack in tightly). All items with an odor must be stored in the BRFC at all times.
NEVER place a cookstove on the BRFC
ALWAYS keep the BRFC away from your tent and campsite
ALWAYS seal food in plastic bag within the BRFC
ALWAYS keep latched and secured
BRFC's are NOT watertight- in the case of rain, turn them upside-down in order to keep water out.