Plan Your Visit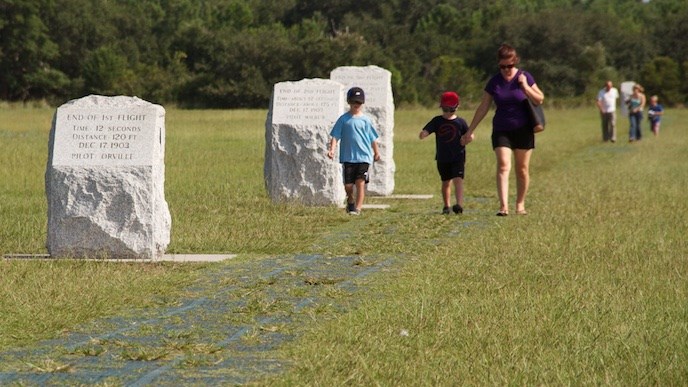 From November 2016 through September 28, 2018, the Wright Brothers National Memorial Visitor Center will be closed for a renovation project. This renovation will allow improvements to be made to the building's infrastructure and the installation of brand new interactive exhibits.

During this closure, the grounds will remain open and information and bookstore services will be available in a temporary facility near the parking lot. In the temporary facility, you will find an information desk where you can speak to an NPS representative, five small poster-style exhibit panels to learn more about the Wright brothers' story, and a bookstore.

Due to the smaller size of the temporary facility, plan to spend your time while visiting the park primarily outdoors and please dress accordingly. The grounds at Wright Brothers National Memorial are open from 9:00 am- 5:00 pm.

During your visit you can walk to the First Flight Boulder and Flight Line which mark the location where the Wrights first flew, peer into the reconstructed Wright brothers' camp building and hangar, visit the 1903 Bronze Sculpture of the First Flight featuring a life size model of the 1903 Wright Flyer, and walk to the top of Big Kill Devil Hill to the base of the Wright Monument.

Welcome to Wright Brothers National Memorial!
Come experience the place where two young brothers from Dayton, Ohio experimented with flight in the early 1900s, and finally succeeding on a cold winter day with the world's first controlled, sustained, powered, heavier-than-air flight.
Exploring the grounds gives you an opportunity to see reproductions of the brothers' 1903 camp buildings, stand at the place where Wilbur and Orville Wright first took to the air in their 1903 flyer and landed, and climb Big Kill Devil Hill to see the nation's monument commemorating the brothers' historic achievement. You can also take in an interpretive program on the brothers, examine the replicas of the 1902 glider and 1903 flyer, and see portraits of other famous aviators.
National Park Service Rangers are here to assist you in having an enjoyable and safe experience. We look forward to seeing you!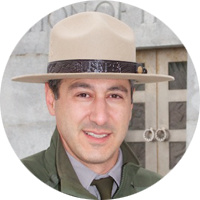 Dave Hallac
Superintendent, Outer Banks Group


Last updated: August 1, 2018