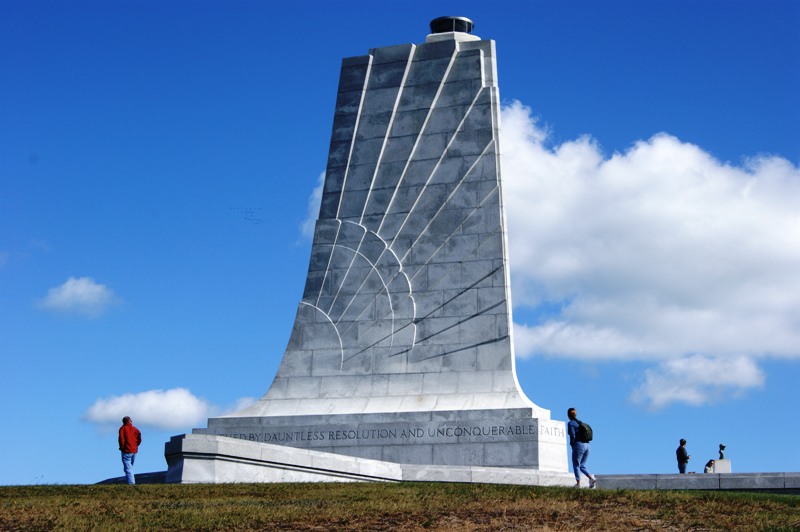 News Release Date:
December 8, 2010
Contact: Wright Brothers National Memorial, 252-441-7430
107th Anniversary Event Scheduled at Wright Brothers National Memorial
On Friday, December 17, 2010 the First Flight Society and the National Park Service will continue the tradition of honoring the accomplishments of Wilbur and Orville Wright at the 107th anniversary celebration of the first heavier-than-air powered flight. The event will take place at Wright Brothers National Memorial; park entrance fees will be waived for the day.
The observance will launch at 8:30 a.m. with a short wreath-laying ceremony at the exact spot where the famous first flight occurred. In this ceremony, the Wright brothers and the witnesses of the first flight will be honored by the National Park Service and the descendents of the witnesses. This wreath-laying ceremony will start from the Wright Brothers Visitor Center.
The formal program begins at 9 a.m. in the First Flight Pavilion, preceded with a patriotic musical prelude by the Northeastern High School Band from Elizabeth City, NC. Nags Head Elementary School students participating in the Wright Flight academic achievement program will lead the Pledge of Allegiance. Dr. Tom Crouch, Senior Curator at the Smithsonian's National Air and Space Museum will introduce this year's guest speaker, National and International Aerobatic Champion Patty Wagstaff. Ms. Wagstaff, representing Women In Aviation International, will pay tribute to Betty Skelton Erde, this year's inductee to the Paul E. Garber First Flight Shrine. Ms. Erde won the Women's International Aerobatics Competition from 1948 to 1950.
An annual aircraft fly-by will pay tribute to the Wright brothers and Women in Aviation starting at 10:35 a.m. - - the documented exact moment of the Wrights' first flight.
The park's museum exhibits and activities throughout the day will provide an atmosphere of enjoyable learning about one of the greatest inventions of the 20th century. The visitor center will open at 8 a.m. Flight Room Talk programs will take place at the visitor center at 12 p.m., 2 p.m., and 4 p.m. Children are invited to participate in the park's Junior Ranger program.
For more information, call the National Park Service at (252) 441-7430.