Date:
March 3, 2006
Contact:
Outer Banks Group, (252) 473-2111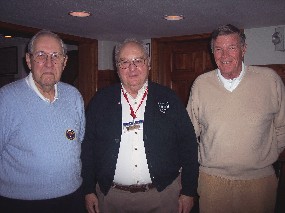 This past week, the National Park Service Outer Banks Group honored volunteers from Cape Hatteras National Seashore, Fort Raleigh National Historic Site and Wright Brothers National Memorial. Over 590 people donated 32,232 hours this past year in the three parks.
Four volunteers were recognized for their national level achievements. Bud Brown, Joe Hardman, and Jerry Raveling, all volunteers at Wright Brothers National Memorial, received the President of the United States' Volunteer Achievement Award for donating over 4,000 hours of service. Barbara Adams, a volunteer at Ocracoke Island on Cape Hatteras National Seashore, received the Secretary of the Interior's Volunteer Service Award for donating over 3,000 hours.
"The number of hours donated in service to the Outer Banks Group is incredible," said superintendent Michael B. Murray. "The work accomplished by volunteers equals almost 16 full-time paid staff members. I look forward to working with such a strong and dedicated group of volunteers."
Several volunteers received special recognition for their efforts. Jane Morgan, Carol Stevans, Kim Emery, Chelsea Cerca, Kara Koziar, and Anne Rossiter all received 100 hours of service pins. Bill Stickle, Beverly Henson, Bud Brown, Dave Masters, Joe Hardman, Barbara Adams, Elizabeth Hanrahan, Jinx Caylor and Lynn Jaques all received awards for donating over 200 hours in the past year.
In addition, a special group of students from Cape Hatteras elementary and secondary schools were recognized for their dedication to park projects. This group, organized by teacher Beverly Henson, had 30 students donate over 880 hours this past year.
Volunteers support a myriad of visitor services and special projects. Volunteers working at the visitor centers, lighthouses, supporting programs, and out on the beach with resource management are the most visible to the public. Volunteers also work in park offices, track use permits, photograph special events, writing articles for the park newspaper, and providing support maintenance projects.
Dare and Hyde county residents comprise a majority of the volunteer corps, which is supplemented by non-local volunteers, and interns. Some organizations, such as the Cape Hatteras Anglers Club and Cape Hatteras Bird Club, also volunteer their services providing special programming for park visitors.