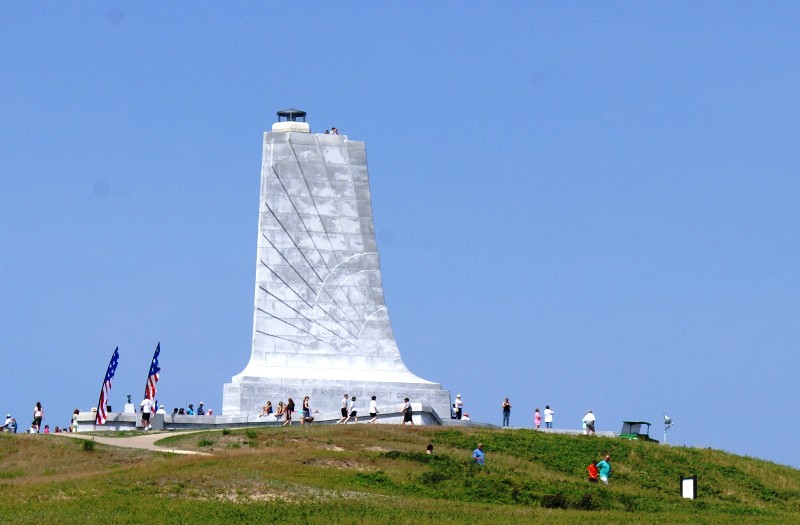 News Release Date:
April 14, 2010
Contact: Cyndy Holda, 252-473-2111 x148
National Park Week, a program of the National Park Service (NPS), is an opportunity for families and communities to get outside and explore America's Great Outdoors.  This annual celebration takes place this year from April 17-25.  The NPS is waiving entrance fees so visitors can enjoy all 392 national park sites for free during this week.
Other National Park Week highlights include the 40th anniversary of Earth Day on April 22, and National Junior Ranger Day on April 24.
"Our national park system continues to provide opportunities for affordable family vacations close to home," said Superintendent Mike Murray.  "National parks are places for everyone to have fun, reconnect with nature, build a sense of ownership and stewardship toward parks and the environment, and to learn more about our great country."  The staff of Wright Brothers National Memorial, Fort Raleigh National Historic Site and Cape Hatteras National Seashore invites everyone to visit one of our nation's premier parks, including the parks in your own backyard, to help celebrate National Park Week.   Bring your family and friends to Wright Brothers to relax and learn more about this great nation's aviation history.  Enjoy exploring the nation's first national seashore, attend a ranger program, and visit the site of the first English settlement.  Additional information on National Park Week can be found on line at www.nps.gov/npweek .
While entrance fees for passengers in both private and commercial vehicles will be waived, recreation "user fees" such as permit fees, camping fees and lighthouse tour fees are not waived.  Entrance fees are not charged at Fort Raleigh National Historic Site or Cape Hatteras National Seashore.
For information on visiting the Outer Banks Group parks, please visit the parks' websites at www.nps.gov/wrbr, www.nps.gov/caha, and www.nps.gov/fora, or by calling 252-441-2111.