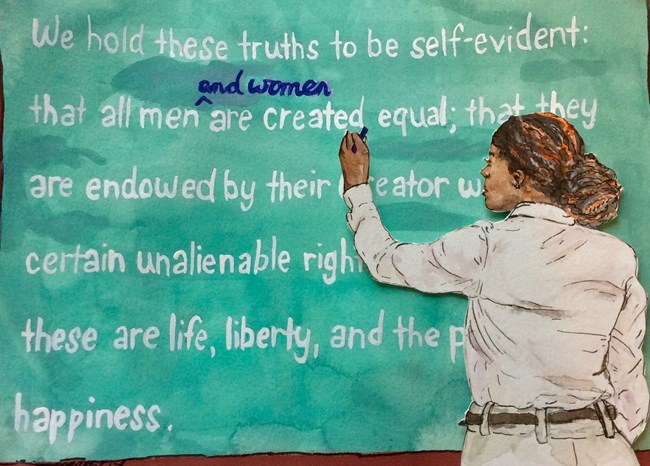 "You have pens and voices."
- Lucretia Mott, 1841

Join us in commemorating the 170th Anniversary
of the First Women's Rights Convention!
July 20-22, 2018

This three-day event commemorates the United States' first women's rights convention held here in Seneca Falls, NY. In 1848, around 300 people came together in the Wesleyan Chapel to discuss the "Social, Civil, and Religious Condition of Women." On the second day, 68 women and 32 men signed the Declaration of Sentiments. This document inserted the important words, "and women", into the familiar sentences of the Declaration of Independence and demanded women's equality under the law and beyond. Several years before organizing and attending this convention, Lucretia Mott reminded a group gathered in Boston that "you have pens and voices" able to end slavery. Come explore this convention, the movement behind it, and the power of words.
This event is FREE for everyone and includes family-friendly activities, ranger-led programs, living history programs, art displays, and much more.
Follow us on
Facebook
as we unveil all the events and activities for Convention Days 2018.
Be sure to check out
www.conventiondays.com
for a full community schedule of Convention Days.
Get Involved!

Convention Days is always looking for volunteers to make it a success. Interested in volunteering, please contact Denise DeLucia at
e-mail us
.
For more information, please call us at 315-568-0024 or e-mail at
e-mail us
.