Convention Days
Save the Date: Convention Days 2020
Legacy of our Foremothers
Friday, Saturday & Sunday, July 17, 18 & 19, 2020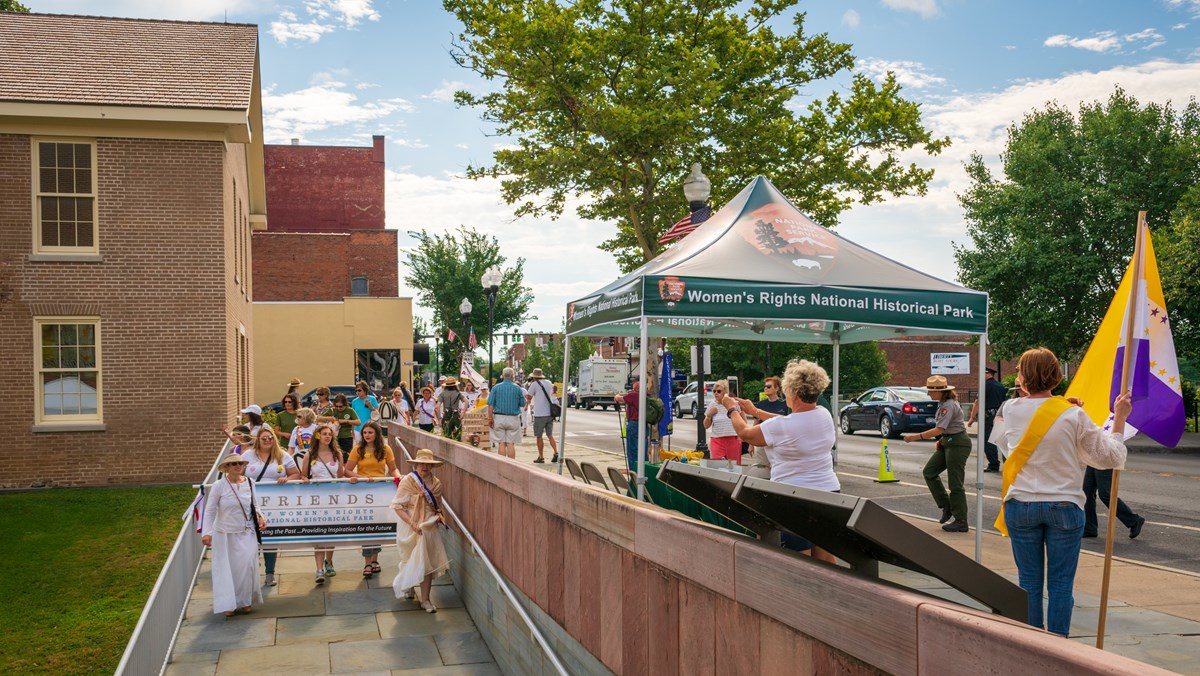 Volunteer at the Event
Volunteer to bring women's rights to life! Convention Days has been a signature event in Seneca Falls for many years. We would not be able to keep this event going without the work of dedicated volunteers.
Volunteers are needed to assist with set-up and break-down, with staffing the information booth and visitor services desk, assisting speakers and performers, and to assist with children's activities. Shifts are two - three hours long and can be geared towards your interest.
If you are interested in volunteering please contact Audrey DeAngelis at 315-568-0024 or
e-mail us
Getting Around
Get Directions and look at some Maps to help you navigate the event.
Parking
Many streets around town allow street parking. In addition to street parking, there are several lots in the area that are within walking distance to the park. Please obey all parking signs and restrictions.

The parking lot behind the Visitor Center will be reserved for handicap parking for the duration of Convention Days. The street spots directly in front of the Visitor Center and Wesleyan Chapel will be blocked for loading and pedestrian safety.

The following lots will be available on Saturday, July 20 for public parking:
Mynderse Academy High School (105 Troy Street)
Seneca Falls Middle School Back Lot (where Mynderse Street dead-ends at school)
Elizabeth Cady Stanton Elementary (38 Garden Street; Front & Back Lots)
Municipal Lot (near 19 Cayuga Street; between Chemung Canal & Generations Bank)


Last updated: February 13, 2020