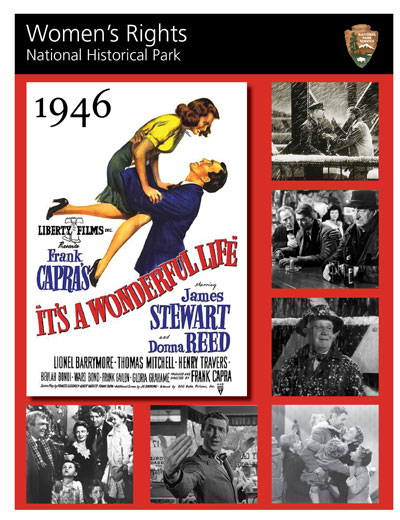 News Release Date:
December 2, 2012
Contact: Jamie Wolfe, 315.568.0024
Women's Rights National Historical Park continues its second annual Winter Film Festival by showing the documentary film It's a Wonderful Life on Friday, December 14, and Saturday, December 15, 2012.
Frank Capra's film It's A Wonderful Life tells the story of George Bailey, a man who finds hope from an unexpected source. Starring James Stewart, Donna Reed, and Lionel Barrymore, this holiday classic will appeal viewers of all ages. According to local tradition, real-life events in Seneca Falls, New York, may have inspired Mr. Capra when he made It's A Wonderful Life.The running time for It's A Wonderful Life is two hours.
Women's Rights National Historical Park commemorates and preserves the sites associated with the First Women's Rights Convention, held in 1848 in Seneca Falls. "We are proud to be part of Seneca Falls, and we invite everyone to join us in enjoying this beloved masterpiece," said Superintendent Tammy Duchesne. "The Winter Film Festival is a fun way to learn about our national history," added Superintendent Duchesne.
All Winter Film Festival showings will occur at 12:00 Noon on Fridays and Saturdays at the Women's Rights National Historical Park Visitor Center, located at 136 Fall Street in Seneca Falls. All film showings are free of charge. The Winter Film Festival films are intended for a general audience. Visitors are encouraged to call if they are interested in a particular showing as film lengths vary.
For more information, please visit our website at www.nps.gov/wori or call (315) 568-0024. Follow the park's social media sites for Facebook (https://www.facebook.com/womensrightsnps)
and Twitter (https://twitter.com/#!/WomensRightsNPS) to learn more about our upcoming programs. Learn about the park's latest activities by reading its most recent newsletter:
https://www.nps.gov/wori/parknews/upload/WORI-Newsletter-Vol-1-No-4-Fall-2012-FINAL.pdf.