Women's Rights NHP Hosts Farewell Program for the Suffrage Press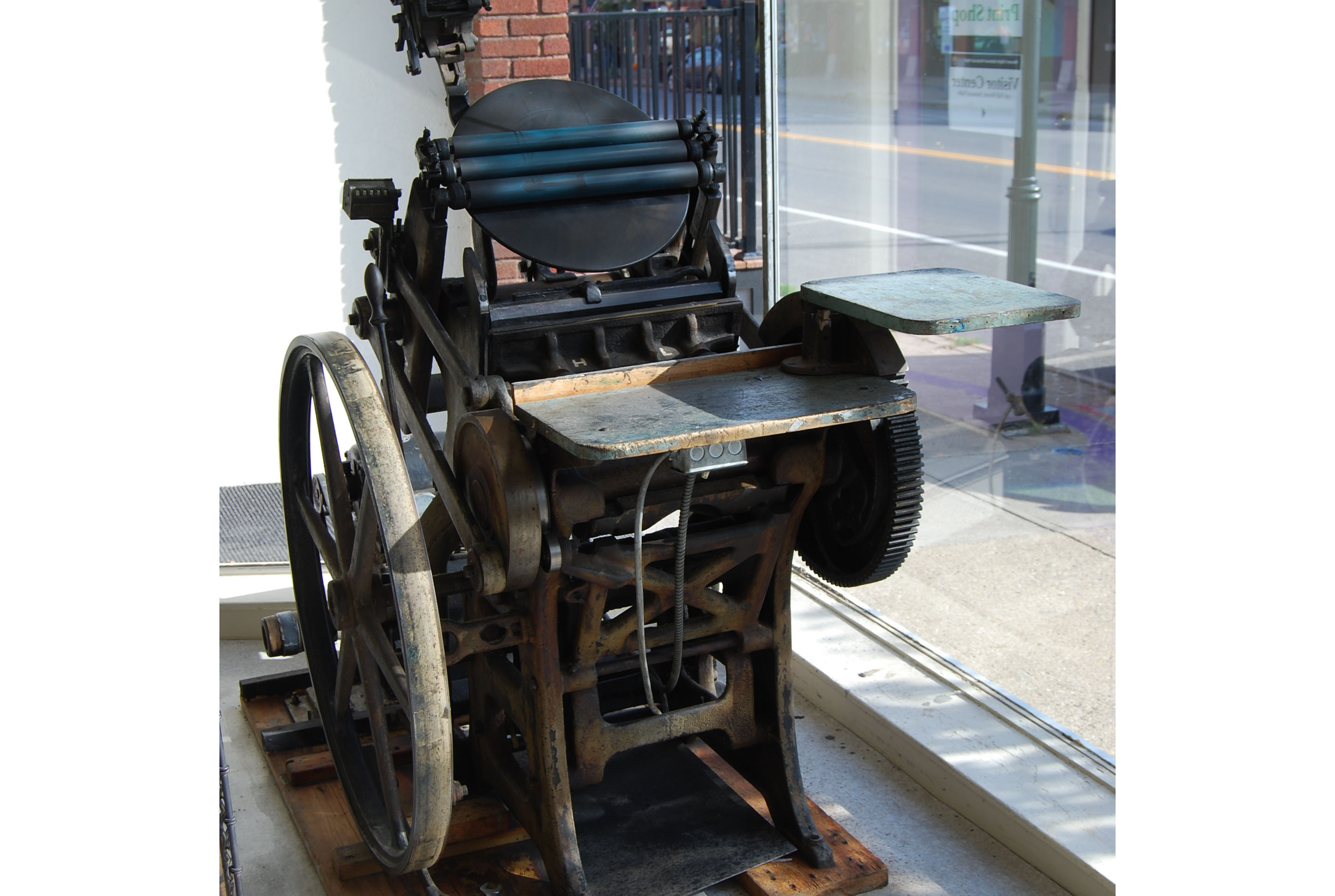 News Release Date:
February 1, 2012
Contact: Andrea DeKoter, 215.568.0024
Seneca Falls, NY - Women's Rights National Historical Park invites the public to a special program and reception as it bids farewell to its suffrage printing press on Saturday, February 18 at 3 p.m. in the park's Visitor Center at 136 Fall Street in downtown Seneca Falls.
The press, which was acquired from Helaine Victoria Press in 1994, was used by Women's Rights National Historical Park for educational, living history, and special programs. It also provided interpretive products such as postcards for park programs. Though the press itself does not date back to the First Women's Rights Convention that was held in 1848, it was dubbed the "suffrage press" because it highlights the powerful role of the media in spreading the message of the early women's rights movement.
Changing visitation patterns and staffing needs led to the reduced use of the print shop by 2009. However, a local partnership will provide a new opportunity for the press to be used to educate the public about the power of words to change society.
The press will move from its Fall Street location to the Cracker Factory, at 35 Lehigh Street in Geneva, NY, where it will be used in book arts and other programming provided by the not-for-profit Three Stories.
"We are thrilled to find a local partner whose passion for history, for printing, and for the power of people to transform society will bring this equipment to new life," said Tammy Duchesne, Superintendent of Women's Rights National Historical Park. "We look forward to partnering with Three Stories to provide interpretive programs about the role of printing in promoting the women's suffrage movement in the future. We also look forward to making rangers available to do programs at Three Stories to introduce potentially new audiences to the National Park Service. We are extremely grateful to all those who made the Suffrage Press Print Shop a success during its time at Women's Rights National Historical Park. I encourage park friends and supporters to check out the programs and events planned by Three Stories."
Visitors are invited to enjoy a commemorative printing at the current location of the press, 116 Fall Street in Seneca Falls, on Feb. 18 from 3-4 p.m., with light refreshments served in the park's Visitor Center at 136 Fall Street.
For more information about this event, please call (315) 568-0024. You can also follow the park's social media sites for Facebook (https://www.facebook.com/womensrightsnps) and Twitter (https://twitter.com/#!/WomensRightsNPS) to learn more about our upcoming programs.
Last updated: February 26, 2015