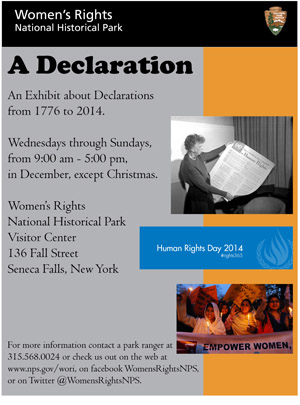 News Release Date:
December 5, 2014
Contact: Jamie Wolfe, 315.568.0024
 Seneca Falls, NY -- One hundred years after the Declaration of Sentiments was discussed and ratified at the First Women's Rights Convention, Eleanor Roosevelt and others were adopting the Universal Declaration of Human Rights as a charter document for the new United Nations. The global proclamation was signed on December 10, 1848. Each year on this date, a remembrance of the historical document is celebrated as Human Rights Day, as we as citizens of the world still aspire to live up to the articles of the Universal Declaration of Human Rights.

A new exhibit "A Declaration" is now open at Women's Rights National Historical Park to highlight this and sixteen other Declarations from around the world, beginning in 1776 and going through 2014. The exhibits is located in the Visitor Center, 136 Fall Street, Seneca Falls and is on display Wednesday through Sunday throughout December. The park is closed on Christmas Day.