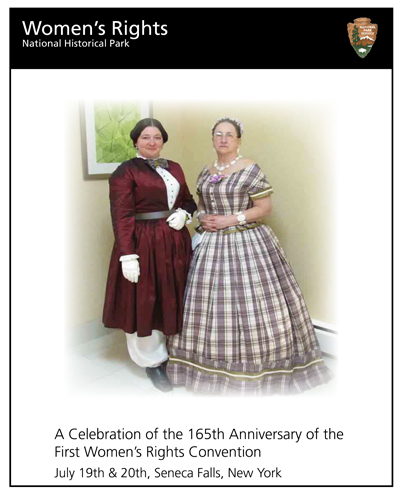 News Release Date:
July 14, 2013
Contact: David Malone, 315.568.0024
Seneca Falls, NY – Women's Rights National Historical Park has announced its program for the 165th Anniversary of the First Women's Rights Convention. The Anniversary events will be held on July 19 & 20, 2013.All events will be free of charge.
"Women's Rights National Historical Park interprets the history of the First Women's Rights Convention. Our annual anniversary events commemorate this special and important event," said Acting Chief of Interpretation & Education David Malone. "We are proud to offer an exciting, informative, and entertaining schedule of events which will appeal to all visitors," added Malone.
Several programs will be offered during the Anniversary events. Artist Carol Flueckiger will present an artistic performance entitled "Three Eleanors", which will narrative the stories of Eleanor of Aquitaine, Eleanor Duse, and Eleanor Roosevelt. Melinda Grube will portray Elizabeth Cady Stanton on Saturday, July 20, and will lead a walk from the Elizabeth Cady Stanton House to the Wesleyan Chapel. A play about the Seneca Falls Convention will be performed, and women's attire of the mid-19th century will be exhibited and discussed.
Paul and Mary Kuhn will present phrenology demonstrations and will offer talks on the phrenology reports of Elizabeth Cady Stanton and Amelia and Dexter Bloomer. Bonnie Breed will present lace-making demonstrations as part of the Anniversary events. The Hutchinson Family Revival will perform abolitionist, temperance, and women's rights songs. Also, Women's Rights NHP Lead Social Media Administrator Stephanie Freese will live-blog during the Anniversary events.
For more information regarding our program of events, please refer to our website:https://www.nps.gov/wori/planyourvisit/165th-anniversary-celebration.htm
For more information, please visit our website at www.nps.gov/wori or call (315) 568-0024. Follow the park's social media sites for Facebook (https://www.facebook.com/womensrightsnps) and Twitter (https://twitter.com/#!/WomensRightsNPS) to learn more about our upcoming programs. To request email announcements of all park programs, contact e-mail us or call 315.568.0024.