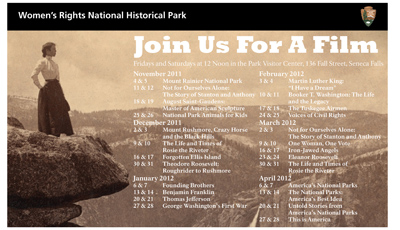 News Release Date:
January 2, 2012
Contact: Andrea DeKoter, 315.568.0024
Seneca Falls, NY - Women's Rights National Historical Park is pleased to announce that it will show the film Founding Brothers this Friday and Saturday, January 6 and 7, at 12:00 noon.
Based on the Pulitzer Prize-winning book by historian Joseph Ellis, Founding Brothers reveals the intrigues, conflicts, and compromises among George Washington, Thomas Jefferson, Benjamin Franklin, Alexander Hamilton, John Adams, and James Madison as they attempted to realize their vision of the United States of America. Drawing on current historical scholarship and the words of these men, the film offers fascinating insights into our nation's origins.
The film is being shown as part of Women's Rights National Historical Park's first Winter Film Festival. The park exists to commemorate and preserve the events of the First Women's Rights Convention that was held in Seneca Falls in 1848. "We are proud to be part of the National Park system, and we invite everyone to join us in celebrating our shared history and culture through film," said Superintendent Tammy Duchesne.
Founding Brothers is approximately 3 hours and 20 minutes long and intended for a general audience. Visitors are welcome to join us for all or part of the movie. All Winter Film Festival movies will be shown at noon on Fridays and Saturdays, November through April, in the Guntzel Theater, located at the Women's Rights National Historical Park Visitor Center at 136 Fall Street in downtown Seneca Falls. Because film lengths vary, visitors are encouraged to call if they are interested in a particular showing. All park programs are free and open to the public. For more information, please call (315) 568-0024. You can also follow the park's social media sites for Facebook (https://www.facebook.com/womensrightsnps) and Twitter (https://twitter.com/#!/WomensRightsNPS) to learn about our upcoming events and programs.