Women's Rights National Historical Park to Celebrate African American History Month with a lecture on Frederick Douglass and Suffrage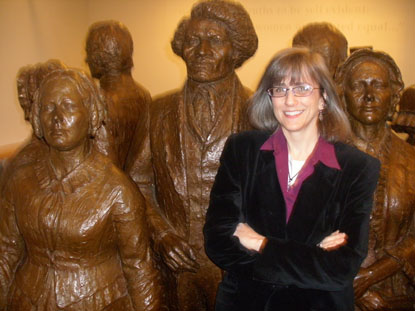 News Release Date:
January 31, 2014
Contact: David Malone, 315-568-2991 ext. 3002
Seneca Falls, NY— In celebration of African American History Month, Women's Rights National Historical Park invites the public to hear professor Leigh Fought, Ph. D. of Le Moyne College speak on Saturday, February 15th at 1:00 pm in the park Visitor Center.
Professor Fought will speak about Douglass' journey from being an advocate for antislavery to becoming a "woman's rights man." She will also speak about her upcoming book, Frederick Douglass' Women, which explores the subject of Frederick Douglass' professional and private relationships with women.
Born a slave in Maryland, Frederick Douglass escaped slavery as a young man and became a renowned abolitionist, speaking out publicly against slavery both at home and abroad. Yet, his desire for equality extended beyond race. He stated that he "advocate[d] woman's rights, not because she is an angel, but because she is a woman, having the same wants, and being exposed to the same evils as man." Douglass attended the first women's rights convention, held in Seneca Falls in 1848, and is credited with advocating for women's suffrage.
Admission to the event is free.
For more information, please visit our website at www.nps.gov/wori or call (315) 568-0024. Join us on Facebook (https://www.facebook.com/womensrightsnps) and Twitter (https://twitter.com/#!/WomensRightsNPS) to learn more about our upcoming programs. If you would like to be included and receive these new email announcements, send park ranger Patrick Stenshorn an email (e-mail us) to subscribe.
Last updated: February 26, 2015