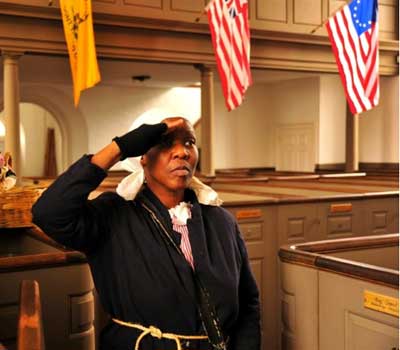 News Release Date:
March 10, 2013
Contact: Jamie Wolfe, 315.568.0024
Seneca Falls, NY - In recognition of Women's History Month, Women's Rights National Historical Park will host Carolyn Evans, as Harriet Tubman, in her original production of "The Love in That Cabin." Performances will be offered on March 22 at 7:00 PM and March 23 at 10:30 AM in the park visitor center theater, 136 Fall Street, Seneca Falls, NY.
Evans, an experienced storyteller, brings Harriet Tubman to life in this one-woman show. The program combines stories, songs, and history of Tubman's courageous life as an enslaved person, fugitive, conductor on the Underground Railroad, Union Spy, resident of Auburn, and women's rights ally. Both performances will be followed by a reception. Admission is free and open to the public.

This year's Women's History Month theme is "Women Inspiring Innovation through Imagination." Chief of Interpretation Ami Ghazala said, "Harriet Tubman is a great example of an innovator. By learning to read and write using only the Bible, she invented songs to caution other enslaved people. The NPS is proud to host events such as this one during the 150th Anniversary of the Civil War and the Emancipation Proclamation and the 100th Anniversary of Tubman's death."

For more information, please visit our website at www.nps.gov/wori or call (315) 568-0024. Follow the park's social media sites for Facebook (https://www.facebook.com/womensrightsnps) and Twitter (https://twitter.com/#!/WomensRightsNPS) to learn more about our upcoming programs. Learn about the park's latest activities by reading its most recent newsletter: https://www.nps.gov/wori/parknews/upload/WORI-Newsletter-Vol-2-no-1-12-26-12.pdf.