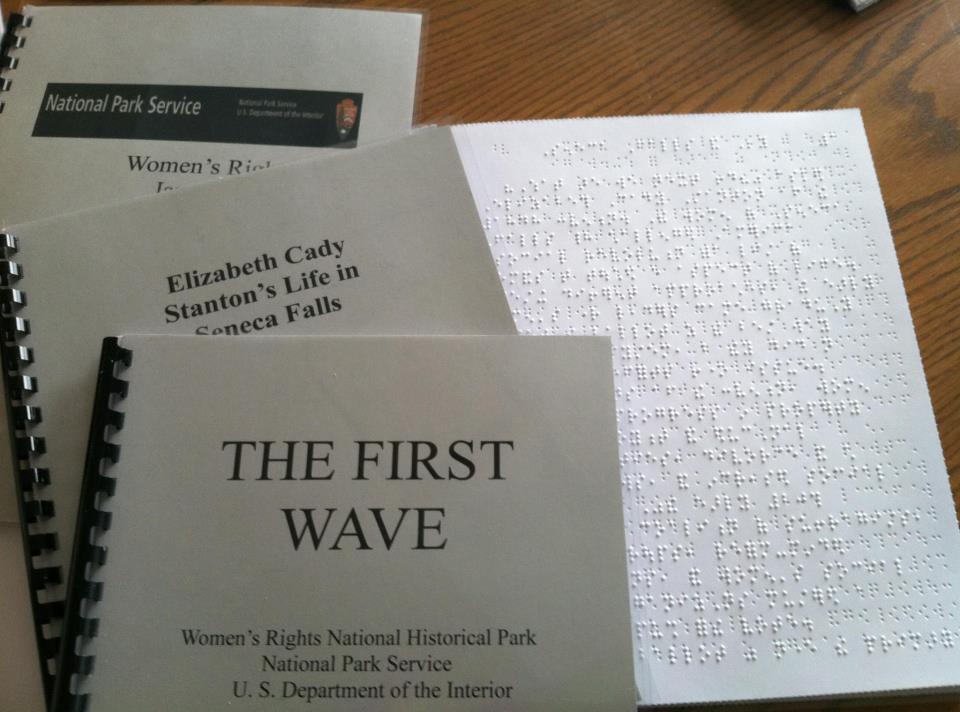 News Release Date:
December 30, 2011
Contact: Andrea DeKoter, 315.568.0024
Seneca Falls, NY - Nearly 300 million people are expected to visit America's National Parks this year, and the National Park Service has made a commitment to ensuring that all of them have the opportunity to enjoy the natural and cultural wonders that abound at its 397 sites. As part of this effort, Women's Rights National Historical Park Superintendent Tammy Duchesne announced today that the park's site brochures are now available in Braille.
Visitors to Women's Rights National Historical Park who are visually impaired may request Braille brochures from a park ranger. The brochures provide detailed information about the First Women's Rights Convention that was held in Seneca Falls, the Convention organizers, and the Wesleyan Chapel where the Convention was held, as well as a description of the park's famous statue exhibit.
"I am extremely proud that we are working our way towards being programmatically and one day physically accessible to all audiences. This park stands for equality and justice and we are committed to making improvements to ensure that all people can learn about the important events that occurred here in Seneca Falls and Waterloo," said Duchesne.
For more information about the brochures call (315) 568-0024. Additional information to assist visitors with special needs as they plan their visit to National Parks can also be found by visiting the "National Parks: Accessible to Everyone" website at https://www.nps.gov/pub_aff/access/index.htm.
Follow the park's social media sites for Facebook (https://www.facebook.com/womensrightsnps) and Twitter (https://twitter.com/#!/WomensRightsNPS) to learn about our upcoming events and programs.