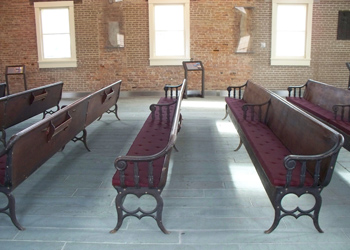 News Release Date:
November 4, 2012
Contact: Jamie Wolfe, 315.568.0024
Seneca Falls, NY - Women's Rights National Historical Park Superintendent Tammy Duchesne announced today that replacement cushions for the "recycled pews" in the Wesleyan Chapel have been installed. "We are pleased with the new cushions. When we installed the wooden pews in July, we had plans to finish them with cushions so they would resemble the originals," said Duchesne.
Park Historian Anne Derousie explained more, "The pews that are now in the Wesleyan Chapel were originally built in 1871 for the First Congregational Church of Seneca Falls, a descendant church of the Wesleyan Chapel. Nine of these pews were purchased by the Park in June, along with a set of pew cushions that were very worn." These worn cushions were a valuable resource and were used to determine the size, color, and construction of the replacement cushions.
Public programs in the Wesleyan Chapel are offered daily at 10:30 am and 1:30 pm. "Everyone is invited to experience the new cushions for themselves and join us for one or all of our ranger programs," added Duchesne. The Wesleyan Chapel is the site of the First Women's Rights Convention held July 19 and 20, 1848 and is the centerpiece of Women's Rights National Historical Park.
For more information please visit our website at www.nps.gov/wori or call (315) 568-0024. You can also follow the park's social media sites for Facebook (https://www.facebook.com/womensrightsnps) and Twitter (https://twitter.com/#!/WomensRightsNPS) to learn more about our upcoming programs.