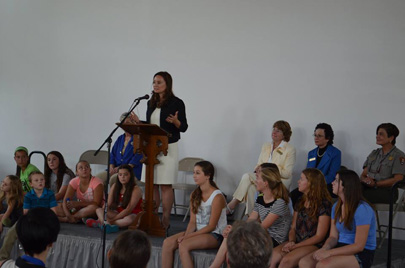 News Release Date:
September 16, 2015
Contact: Kimberly Szewczyk, 315-568-2991
On August 31, 2015, Women's Rights National Historical Park, in collaboration with the National Women's Hall of Fame, hosted a town hall meeting led by United States Treasurer Rosie Rios. A crowd of more than a hundred and fifty local community members gathered in the Wesleyan Chapel, site of the first Women's Rights Convention in 1848, to discuss which historical woman should be featured on the new $10.00 bill.
The Wesleyan Chapel served as a fitting place for a public forum regarding the first woman to be placed on paper money since Martha Washington. The 1848 convention initiated the 72 year-long struggle for women's suffrage in the United States and ignited important conversations about equality that still persist today. Treasurer Rios began the meeting by stating she is "on the shoulders of great women who stood in this hall."
For just over an hour in the balmy and brimming Chapel, Treasurer Rios conducted a lively question and answer. She whizzed through dozens of questions, many involving the decision to put a woman on the $10.00 rather than the $20.00 dollar bill, the re-design process, and anti-counterfeiting measures. Passionate members of the community offered support for prominent women such as Harriet Tubman, Eleanor Roosevelt, and Susan B. Anthony. One passionate community member argued Elizabeth Cady Stanton, the main organizer of the 1848 convention, should be on the $10.00. The treasurer cocnluded the meeting thanking the audience for their participation and lingered long enough to shake hands with a descendant of Harriet Tubman, one of the contenders whose portrait may grace the new currency.