LGBTQ Activists Find Their Park at Women's Rights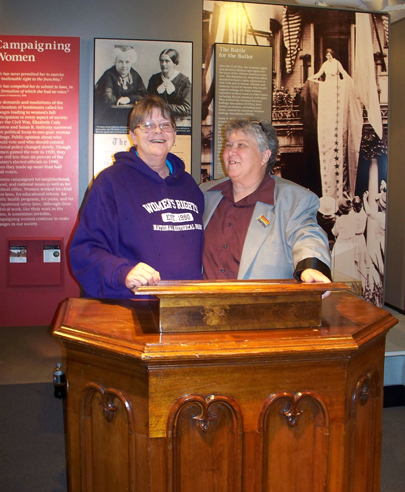 News Release Date:
September 26, 2015
Contact: Kimberly Szewczyk, 315-568-0024
On September 12, Women's Rights National Historical Park invited visitors to Find Their Park and recognize women making history, by welcoming LGBTQ activist and organizer Kitty Lambert-Rudd, who shared her immense knowledge, wisdom, and experiences with visitors. She spoke on the role of women both in the fight for marriage equality and in the world of grassroots organizing. 
In 2004, Kitty and her partner Cheryle founded OUTspoken for Equality, a key organization in the fight for marriage equality in New York State. The group swayed Senator Mark Grisanti on his deciding vote for marriage equality. In 2011, Kitty was honored by President Obama and Vice President Biden at the White House for her impressive work in fighting for LGBT rights. Kitty and Cheryle's tireless efforts led them to being invited to be the first same-sex couple married in New York State, on July 24, 2011.
Kitty and Cheryle  found their park at Women's Rights NHP. Kitty remarked, as she stood in the park's Wesleyan Chapel, "I've been featured at college campuses across the United States, I've been asked to speak in different countries, but speaking here feels like I'm coming home. I'm home with my sisters here." Kitty also stressed in her talks that people of any gender have the potential to make a difference. Those who work for a more fair world can always find their park, and find a home, at Women's Rights National Historical Park. 
Last updated: September 26, 2015