Date:
November 3, 2014
Contact:
Jamie Wolfe
, 315.568.2991 ext. 3003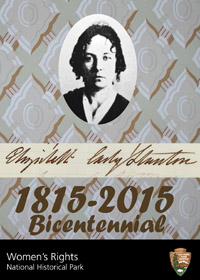 Seneca Falls, NY - Did you vote on Election Day? Elizabeth Cady Stanton's work as a women's rights advocate laid the foundation for all human beings to be empowered to change the world in which they live.
On November 15th, for Elizabeth Cady Stanton's 199th Birthday, Women's Rights National Historical Park will kick off a series of Bicentennial events which will highlight the many contributions of this amazing woman. Join us throughout the next year as we celebrate her birth and the legacy of her life's work with a variety of special events, guest lecturers, and children's programs. These bicentennial events will culminate on Elizabeth Cady Stanton's 200th Birthday, November 12, 2015.
Beginning at 1:00 pm in the park's visitor center, there will be a program for children "Legacy of Change," cake with refreshments, and an appearance by Elizabeth Cady Stanton. At 2:30 pm, the day's events will continue at the Elizabeth Cady Stanton House at 32 Washington Street, Seneca Falls. Join Elizabeth Cady Stanton, as portrayed by Dr. Melinda Grube, in her parlor, for a conversation about her childhood; learn about her children's lives in Seneca Falls, and share your own stories. Try your hand at mastering some children's games from the 1800s while you're there.
For more information, please visit our website at www.nps.gov/wori or call (315) 568-0024. All sites within Women's Rights National Historical Park are free and open to the public. Follow the park's social media sites for Facebook (https://www.facebook.com/womensrightsnps) and Twitter (https://twitter.com/#!/WomensRightsNPS) to learn more about our upcoming programs.