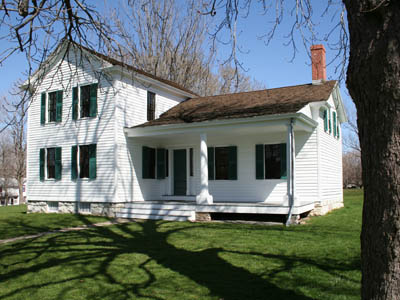 News Release Date:
November 17, 2012
Contact: Jamie Wolfe, 315.568.0024
SENECA FALLS, NY - The Elizabeth Cady Stanton House will close for the winter season beginning Monday, December 3, 2012. The house will reopen for daily tours on March 2, 2013. The Visitor Center at 136 Fall Street, Seneca Falls will remain open throughout the winter, where visitors may view a 30-minute introductory film and tour exhibits. The Wesleyan Chapel tour will be offered twice daily.
Women's Rights National Historical Park is open from 9:00 am until 5:00 pm daily, except for Thanksgiving, Christmas, and New Year's Day. For information about park programs and hours, call 315.568.0024 or visit the web at www.nps.gov/wori. Follow the park's social media sites for Facebook at https://www.facebook.com/womensrightsnps and Twitter at https://twitter.com/#!/WomensRightsNPS to learn more about our upcoming programs. Learn about the park's latest activities by reading its most recent newsletter:
https://www.nps.gov/wori/parknews/upload/WORI-Newsletter-Vol-1-No-4-Fall-2012-FINAL.pdf.