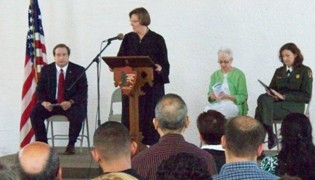 News Release Date:
August 13, 2010
Contact: Lee Werst, 315.568.5302
Seneca Falls, NY - A citizenship ceremony took place inside the recently rehabilitated Wesleyan Chapel at Women's Rights National Historical Park on Friday, August 13, 2010. This was the fifth year that the ceremony was held at the park as part of the observance of the passage of the 19th Amendment in 1920, which gave women the right to vote in the United States.
The ceremony was co-sponsored by the U.S. Citizenship and Immigration Services (USCIS) and the National Park Service. Fifteen participants from eleven countries took the oath of allegiance on the site where women first demanded the full rights of citizenship, including the right to vote.
The Honorable Marian Payson, U.S. District Court, Western District of New York presided over the ceremony and administered the oath to the new citizens. Also participating in the ceremony were Frances Holmes and Ed Newman, USCIS Buffalo office and Tina Orcutt, Superintendent, Women's Rights National Historical Park. Members of the Mynderse Academy Chamber Singers performed the national anthem to open the ceremony. They also performed America the Beautiful as a conclusion.
Women's Rights National Historical Park exists to commemorate and preserve the story of the First Women's Rights Convention and historical structures associated with it in Seneca Falls and Waterloo, New York. All public tours and programs are free and open to the public.