Gerrit Smith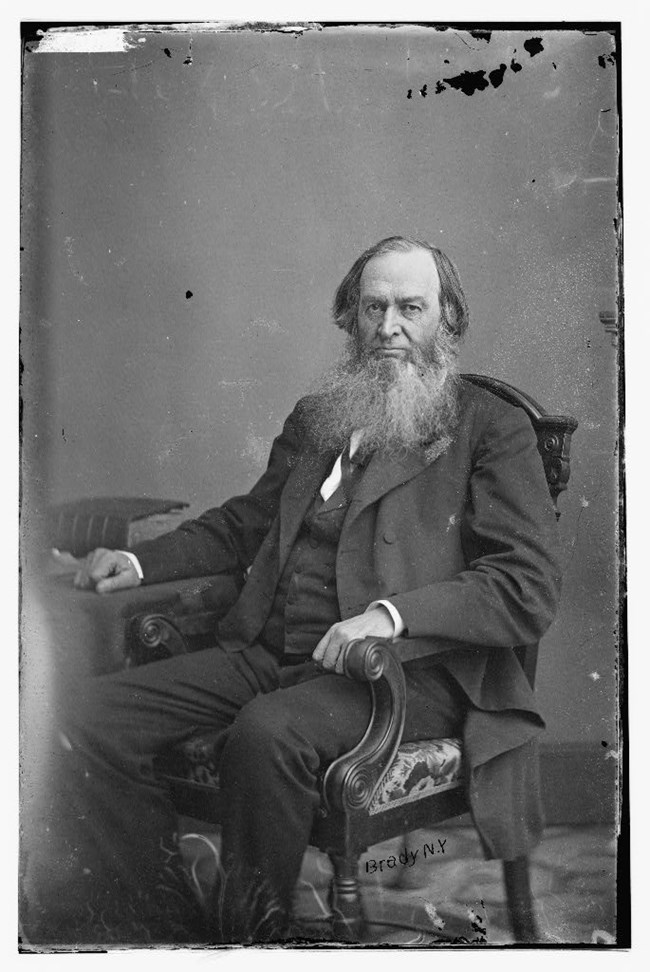 Gerrit Smith was a widely known philanthropist and social reformer who ran for President in 1848. He was born in Utica, New York in 1797 and lived in nearby Peterboro. He was Elizabeth Cady's first cousin. It was at Smith's home in Peterboro, New York that Elizabeth Cady met fellow abolitionist and future husband Henry Stanton. Elizabeth Cady Stanton met and was influenced by many other people at Smith's home, including his daughter, Elizabeth Smith Miller.

Gerrit Smith was a financial supporter of John Brown, and was implicated in the raid on Harper's Ferry. He denied that his intent was to promote insurrection among Southern slaves, but rather to arm for self-defense those who would escape, and thereby inspire others to do so. Though Smith and several of Brown's other co-conspirators (The Secret Six) reportedly avoided knowledge of the specifics, there is little doubt that Smith was aware of, and helped to finance, Brown's plans for military action in Virginia.
Smith's commitment to social justice was wide ranging. He was a major player in various antislavery and temperance societies. As a philanthropist he gave away forty acres of Adirondack land in Northern New York to 3000 poor (and "temperate") African Americans, to permit them to meet the requirements for voting, and in hopes of promoting self-sufficiency. He subsequently sold John Brown the land at North Elba, New York (where Brown is buried, near Lake Placid). The plan was for Brown's family to help the new settlers to become productive farmers. Though much of the land was clearly unsuitable for farming, some lasting settlements were formed. In all it is estimated that Smith's philanthropy reach $8 million before he died.

As an advocate for women's rights, Smith was highly regarded in the early years of the movement, and was mentioned in Stanton's address at the 1848 Seneca Falls Convention. A letter expressing his support was read at the opening of the Rochester Women's Rights Convention on August 2, 1848. His support for women's dress reform was likely related to his daughter, Elizabeth Smith Miller's, development of the costume popularized by Amelia Bloomer.

Along with Frederick Douglass and the American Woman Suffrage Association, Smith split with Stanton and Anthony over the Fourteenth Amendment, supporting the precedence of suffrage for African American men over that for women.

Smith's close relationship with Frederick Douglass spanned many years. A dauguerotype of an 1850 antislavery convention in Cazenovia, New York pictures the young Frederick Douglass in front of the older Smith. The dramatic story behind this picture has been extensively researched, and is described in a publication by the Madison County (New York) Historical Society.
An equally dramatic story surrounds the arrest of a fugitive slave from Missouri, William "Jerry" Henry, who was arrested in Syracuse during the time of an anti-slavery convention. U.S. Secretary of State Daniel Webster, responsible for enforcement of the Fugitive Slave Law, was singled out for special attention after Henry was set free. The Jerry Rescue is memorialized by a monument in downtown Syracuse, where for several years after the event was celebrated by abolitionists on October 1.

Gerrit Smith was a candidate for President in 1848, 1856 and 1860. He served in the U.S. Congress, and was the only avowed abolitionist to do so.


Last updated: February 26, 2015